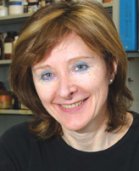 Professor and Concordia Research Chair
Director, Centre for Biological Applications of Mass Spectrometry
NSERC Postdoctoral Fellow, Caltech
PhD (Chemistry), McGill University
BSc, University College Dublin

Research interests
Metal-catalyzed redox processes of biological importance
Peroxidases and redox signaling
Bioinorganic chemistry of nitric oxide and related compounds
Metalloprotein structure-function relationships
Development of mass spectrometric techniques to probe cellular communication
News
Congratulations to Dr. Qadir Timerghazin for winning an Alberta Ingenuity Fellowship!
Qadir won 1 of only 10 fellowships awarded in 2006 for Science and Engineering research in Alberta.
Congratulations Jiang on the successful defense of your PhD thesis!
Read the abstract to Jiang's thesis "Probing the Physiological Roles of Saccharomyces cerevisiae Cytochrome c Peroxidase Using Biochemical and Proteomics Approaches" (2006-07-26)
Congratulations Michelle on your 2006 IUPAC Award!
Read Michelle's winning essay "Photochemical, Photophysical, and Photobiological Studies of Zeolite Guest-Host Complexes" on the IUPAC website (2006-05-05)